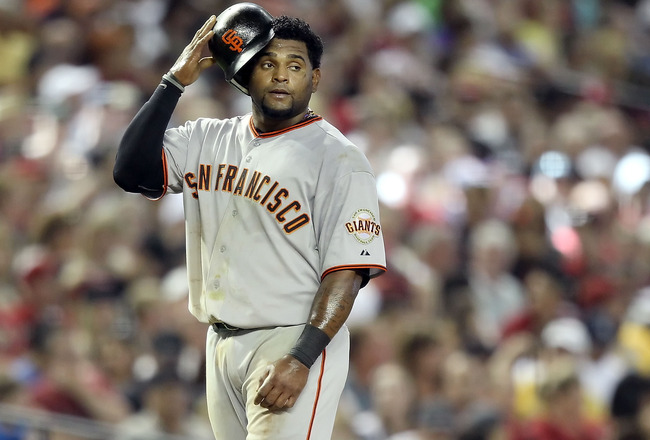 The month of April has been an interesting one for the Giants.
With a record that once hovered above .500, the Giants offense has taken a turn for the worse. In the last three series, the Giants have won only three out of eleven games.
What is more concerning, is that they lost to teams like the Pittsburgh Pirates and the Washington Nationals, not to mention getting swept by Atlanta. All of those teams are .500 now, but before they played the Giants, it seemed like the Giants could use these series as a confidence boost.
In the three wins the Giants had, the credit goes to the pitching staff. By only allowing an average of 1.67 runs per game in those three wins, its pretty hard to lose those games.
Unfortunately, the Giants only averaged 1.37 runs in the games they lost, being shut out three times in that span. They also allowed an average of 3.75 runs per game in those losses. If the pitching isn't preforming, the Giants will not win.
So where did the offense go? With
Andres Torres
still out, as well as
Mark DeRosa
and now
Pablo Sandoval
, the offensive source will be on the shoulders of
Buster Posey
,
Aubrey Huff
,
Cody Ross
,
Pat Burrell
and
Freddy Sanchez
.
The bad news is that those five guys aren't preforming like their projections hold them to. In the past week, Posey hit a mere .211 with one RBI in 19 at-bats, Huff has just one hit in his last 20 at-bats (a .050 average), Ross hit .182 with no runs or RBIs in 22 at-bats, Burrell has only two singles in 21 at-bats with no offensive production, and Sanchez hit only .174.
Heres a joke:
Aaron Rowand
has been the most productive hitter for the Giants in the past week.
It's true. We are doomed. He hit .321 with a stolen base (ha...), three RBIs, three extra-base hits and he did it all by hitting lead-off.
It's pretty evident that the Giants are in a team slump offensively, and it'll take some hard work and a little bit of luck in order for things to turn around.